7 Emails to Reach More Leads (Plus Free Templates)
Making contact with illusive leads can be beyond frustrating. What if I told you your biggest issue isn't what you're saying, it's what you're not saying?
92% of agents give up after four no's, but 80% of prospects say no four times before they say yes. Having a strong engagement strategy going into any lead will help you make contact more often and close more sales. Many agents have their secret sauce to securing contact, but we thought we'd share ours for all you looking to build your own engagement sequence:


Day 1: Introduction
For those of you using lead forms, I want you to remember this golden rule, "every second counts." Every second, every minute, every hour you wait to respond to that lead has a drastic impact on whether they will respond. In fact, responding within the first minute makes you nearly four times more likely to close a deal with that lead.
You'll want to send this first email from the agency owner. This will help the lead feel important. As the agency owner, introduce the producer who will be working this lead and let the contact know to expect a call by the end of the day.
Day 4: Scheduling
There's a good chance the first email or phone call won't reach your lead, and that's okay. This second email should be sent from the producer working the lead.
The job of this email is to establish a relationship between the producer and the lead as well as asking the lead to set up a time for a call that works for them. We've mentioned previously that asking one or two simple questions increases chances of email responses. Asking a lead to set up a time for a call both increases the chances of getting a response directly to this email and allows you your best shot at a direct phone call with the lead.
Day 14: Simple Check-in
If by this point you don't have a response, there's a chance your lead may not actually need a new policy. This third email should be sweet and simple. Send this email from the producer working the lead and simply ask if they are still in the market for an insurance policy. Even if the lead says no, they may reveal information (such as if they just signed a policy with another agency) that could help you X-date the lead to win over in the future.
Day 21: Show dedication
This is where you show your grit as a producer. Harvard business shows that most agents and producers give up after just 3 attempts to reach a lead, but those that make 6 to 9 contact attempts are 70% more likely to succeed. This email should carry a strong message to your lead that you aren't giving up on finding them a policy that will help them sleep with peace of mind.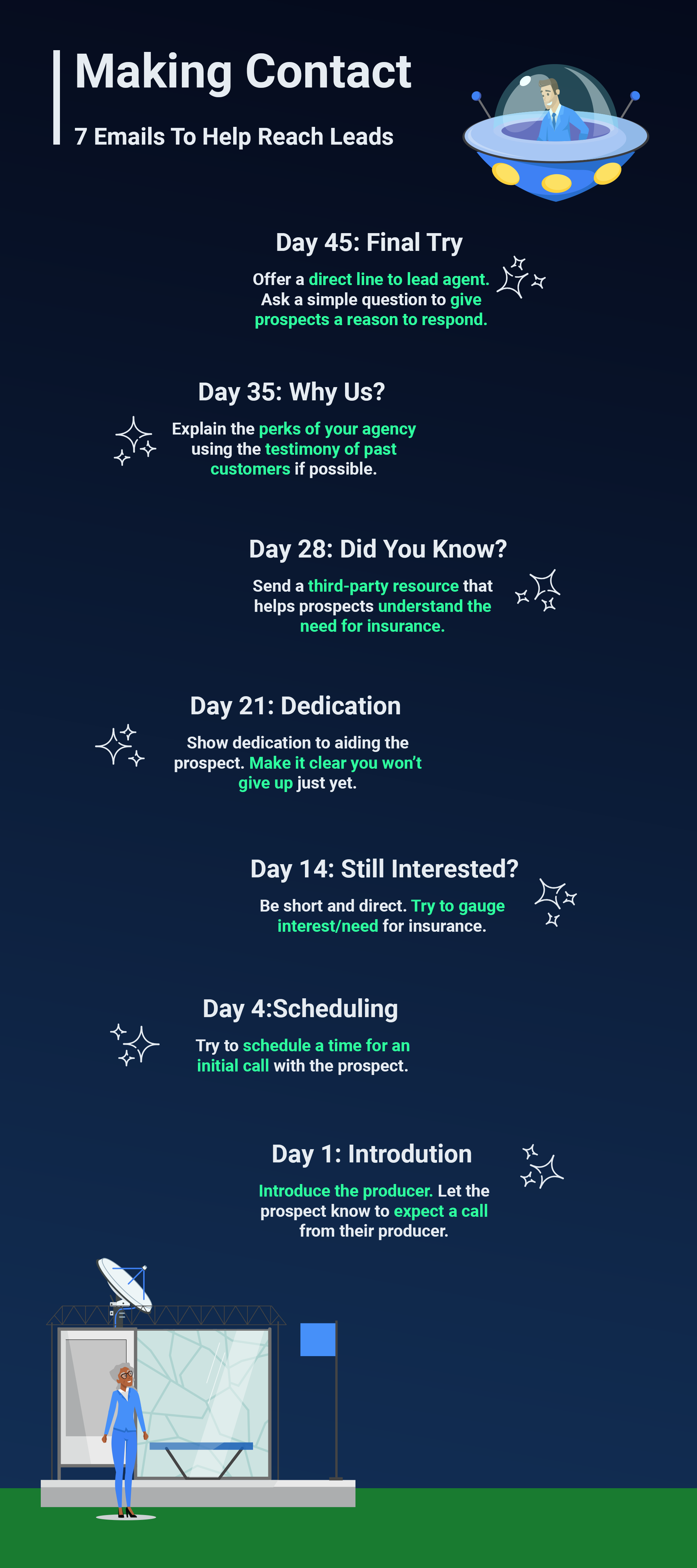 Day 28: The article
By now its clear your lead isn't taking you on your word that they need a policy, so it's time to bring in the experts. Once again, this email should come from the producer working the lead. Find an article outlining the importance of widespread coverage such as this one by Investopedia. Tell them you stumbled across the article and they came to mind. This more established name may be the tipping point for earning a lead's trust.
Day 35: Why us?
At this point its time to change strategies. Having a personal producer was not enough to earn your lead's trust. Send this email from the agency owner. Seeing the owner's name in their inbox may at the very least compel a lead to open your message. It's clear by now that your lead isn't taking you at your word, but what about other customers like themselves? Using testimonials to explain what makes your agency unique may be just what you need to win your lead over.
Day 45: Final Try
This lead isn't going to sell today, and that's fine. What's important is that you leave the line open. Send one last email from the agency owner. Simply asking a lead what's holding them back can help you X-date them, and get them out of your pipeline until a better time.
Need more help getting your first engagement emails written? Check out these free templates below. And if you're ready to mix calls and emails together for an ultimate engagement strategy check out our guide: 3 Tips to Close More Leads (Plus A Free Sequence Mapping Tool).