2 Simple Steps to Evaluate Your Lead Vendors
Are your lead vendors helping your insurance agency profit, or are they draining valuable resources with little return? Understanding the success of your lead vendors is important to ensuring your insurance agency continues to grow. Fortunately, it doesn't take a PhD in theoretical math to determine whether a lead vendor is propping you up or pulling you down. In fact, it's quite simple...
Step 1 - Know your Max COA
The following Max COA formula is our very own time tested method. It will give you a clear idea of what you should be spending per policy sold, no matter what state you operate in or what types of policies you sell.
Max COA = Avg $ per Policy x 20%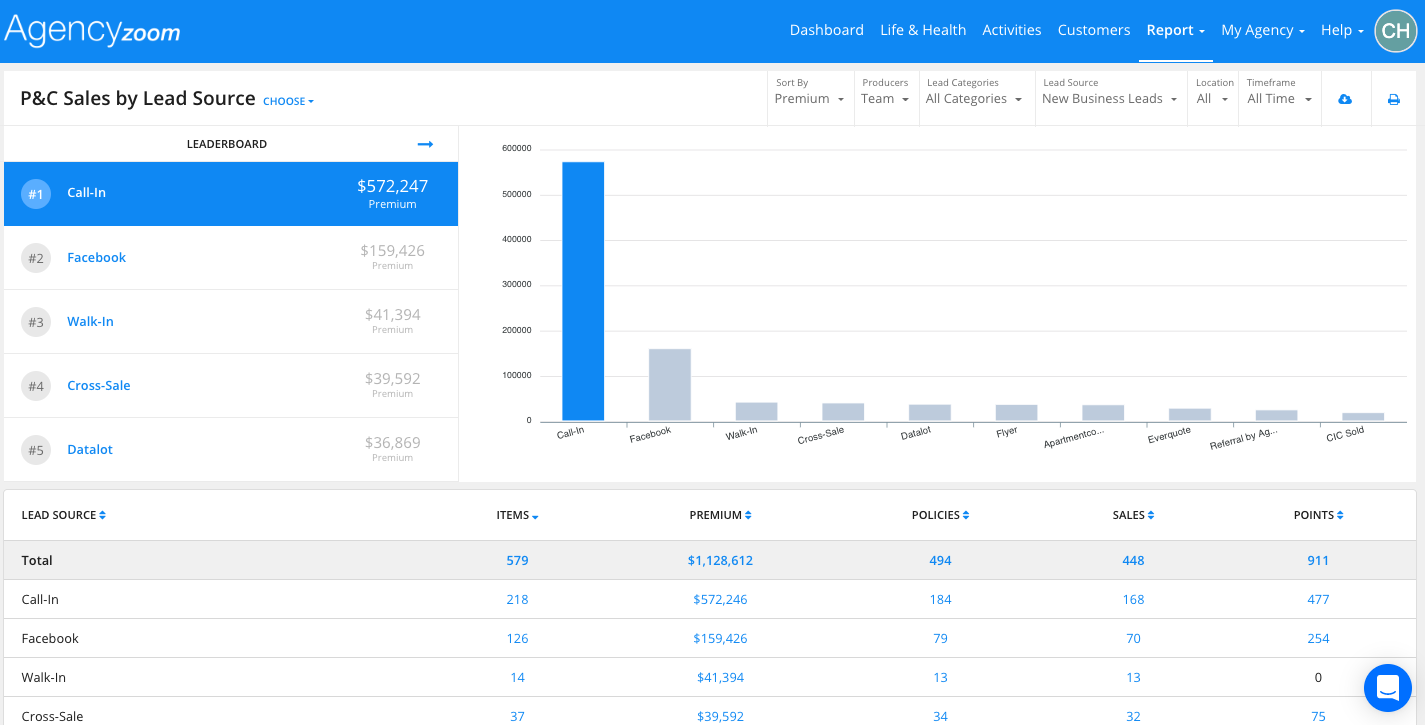 With AgencyZoom we can very quickly see that this agency has 494 policies sold so far YTD and their premium is $1,128,612.
The agency owner should feel very comfortable spending up to $457 with a lead vendor to acquire one sale.
How did we come up with that number?
Calculate the Avg. Price per Policy: $1,128,612 / 494 policies = $2284.63

Calculate the Max COA: $2284.63 x 20% = $457
That means if a lead vendor charges $6 per lead, the agent must close 1 out of 76 leads to be profitable. That's only a 1.3% close rate! Meanwhile, if another lead vendor charges $60 per lead the agent must have a close rate of 13%. Those better be some real hot leads.
Step 2 - Evaluating your lead vendors
With your Max COA, you can now determine the success of your lead vendors. There's one more equation to learn, and it's even easier than the last one.
Lead Vendor's COA = Total $ spent with lead vendor / Total Sales* made from lead vendor
* "Sales" is the number of households you sold, not the number of policies. You may have sold one household 4 policies. That counts as 1 sale! Remember, it's the lead vendor's job to get you in front of households and that's what you evaluate them on. It's your job to extract as many policies as possible.
Finally, compare the Lead Vendor's COA to your Max COA.
Is the Lead Source's COA less than your Max COA?

YES - This is a good lead source, keep putting money towards it.
NO - This lead source really does suck!
And that's really all there is to it! Now it's time to dig in and see which of your lead vendors are hot, and which lead vendors are not.
---
Calculate Max COA even easier with this Free COA Calculator Download